bookshelves:
autumn-2015
,
halloween-2015
,
e-book
,
published-1959
,
tbr-busting-2015
,
film-only
,
boo-scary
,
supernatural
,
gothic
,
ghosties-ghoulies
Read from October 09 to 10, 2015
Description:
The story of four seekers who arrive at a notoriously unfriendly pile called Hill House: Dr. Montague, an occult scholar looking for solid evidence of a "haunting"; Theodora, his lighthearted assistant; Eleanor, a friendless, fragile young woman well acquainted with poltergeists; and Luke, the future heir of Hill House. At first, their stay seems destined to be merely a spooky encounter with inexplicable phenomena. But Hill House is gathering its powers—and soon it will choose one of them to make its own.
Opening: No live organism can continue for long to exist sanely under conditions of absolute reality; even larks and katydids are supposed, by some, to dream. Hill House, not sane, stood by itself against its hills, holding darkness within; it had stood so for eighty years and might stand for eighty more. Within, walls continued upright, bricks met neatly, floors were firm, and doors were sensibly shut; silence lay steadily against the wood and stone of Hill House, and whatever walked there, walked alone.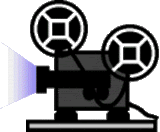 The 1963 Clare Bloom film
A month of Halloween 2015 reads:
#1: 3* Nobody True by James Herbert: fraudio
#2: 4* The Horror Stories of Robert E. Howard: fraudio
#3: 1* Brain Child by John Saul: fraudio
#4: 3* Domain (Rats #3) by James Herbert: fraudio
#5: 3* The Mourning Vessels by Peter Luther: paperback
#6: 2* The Doom of the Great City: ebook short-story
#7: 5* Long After Midnight by Ray Bradbury: fraudio
#8: 5* The Dead Zone by Stephen King: fraudio
#9: CR The Chalice: hardback
#10: WL Seven Gothic Tales
#11: CR Tales of Men and Ghosts: gutenberg
#12: 2* Shattered by Dean Koontz: fraudio
#13: 5* The Dunwich Horror: e-book: gutenberg
#14: TR Death At Intervals: paperback
#15: 3* Alone: gutenberg
#16: CR The Shunned House: gutenberg
#17: 4* The Thing on the Doorstep
#18: 2* Shadows by Saul: fraudio
#19: CR Precious Cargo: paperback
#20: 2* The Magicians of the Golden Dawn: ebook
#21: 2* The Book of Black Magic
#22: 4* Beyond the Wall of Sleep
#23: CR The Haunting of Hill House